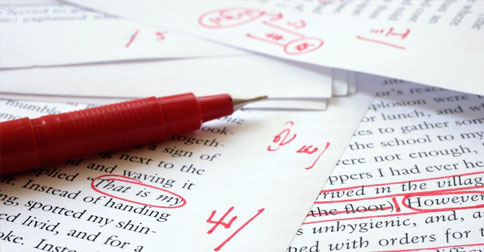 I am of a certain age to remember when all grades were scrawled on notebook paper in fire red ink. I remember turning in papers, essays or other miscellaneous homework with the hope that the spillage of ink on those sacrificed papers would be at a minimum. It would be with deep offense when I would see something that I worked so hard on be bled all over.
If you're honest, this may be one of the reasons why you shy away from (if not outright avoid) submitting work. To blogs. To websites. Even to starting a blog. It is that fear that someone may not like something that you worked on, poured into may not be suitable to their palette.
I am here to remind you to two things:  criticism and critique are invaluable. Here is why:
Criticism. Completely suggestive. Helps to build the vital thing you will need as writer:  THICK SKIN.  There are few rules in writing, and I speak of them often. They relate to spelling, grammar and those related mechanics. These are the unavoidables. These are the things you have to master in order to write or speak any language. They are unavoidable. It is the content where the thick of your problem comes. There are those whom will love, hate–or worse yet–not 'get' what you've written. Any criticism is good–people are reading your stuff! However, in the threads of this criticism, you cannot allow the negative (even hateful) portions of the criticism to take root in your heart. Not every criticism is meant to break you. Some are meant to improve upon what is already there. Constructive criticism builds! It wants you to be better! Malicious criticism tells you want you cannot do, and may never be equipped to do.
Critique. These are similar to criticism, but focus on what is written. Not everything is for everyone. The faith of your talent cannot rest in what other people think of it. As a woman, a writer, and a writer whom is a woman of color, I have faced this more than once–before my skin got thick. I had to remember that what I write isn't for everyone–and that too has to be okay. It must be okay!
Feedback for writers is and will remain a touchy subject! Stephen King almost didn't publish Carrie! Anne Rice couldn't find a market for Interview With A Vampire right off. Langston Hughes contended with his aunt about his writing career. Laurel K. Hamilton when she began writing the Anita Blake series was criticized for her work–about how out the box it is and was.
The point being that writing is what you make it. It is art and craft. It will always be of some contention. Someone somewhere will have something to say about it, not like it, not know how to classify it. They may even hate  your manuscript as what happened to JK Rowling. This cannot stop you. The red ink cannot become a grave or a paralytic!
For the people that don't dig your stuff, there will be someone that will. That wishes they had something newer, fresher to read. Sometimes writers have to be their own advocates. You have to toughen up, sharpen your skills and above all write.
Write. And by God, keep writing!
[image from Google]